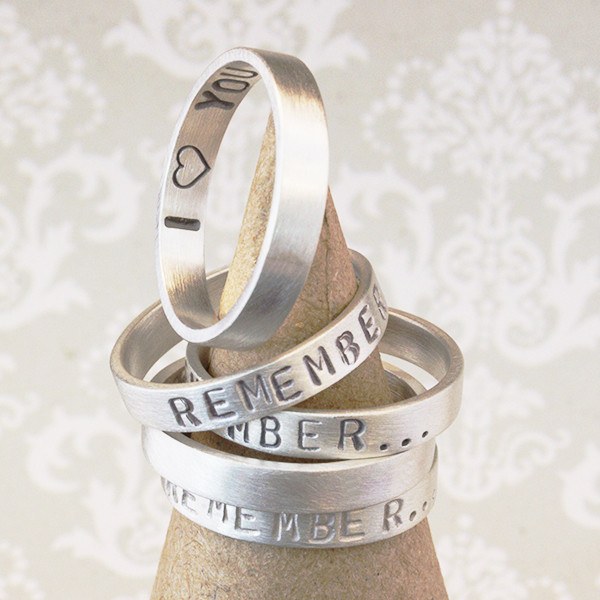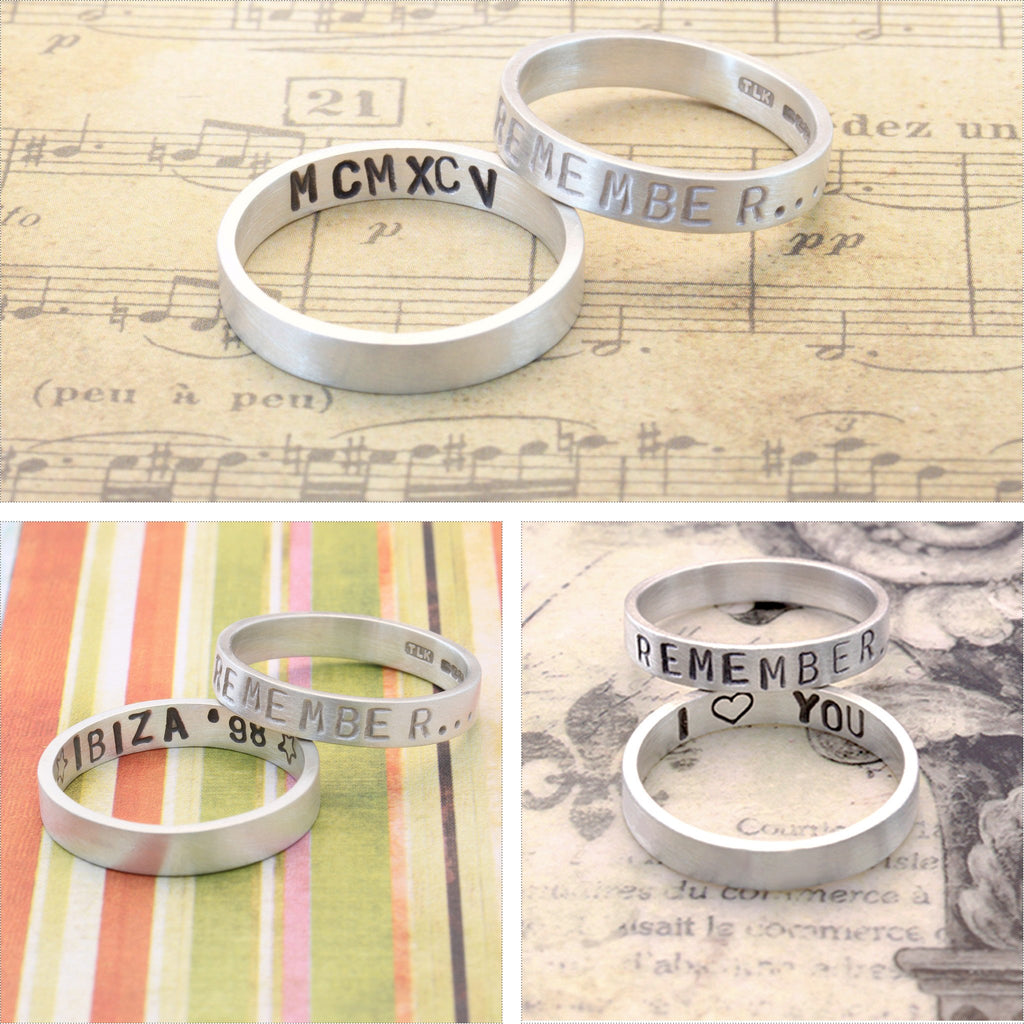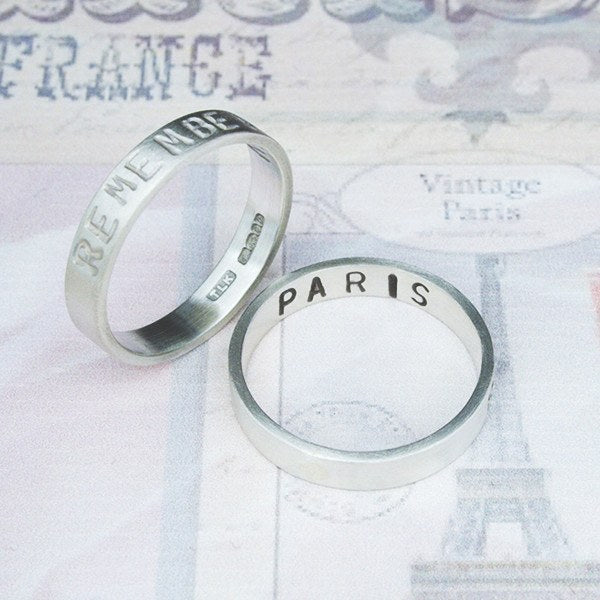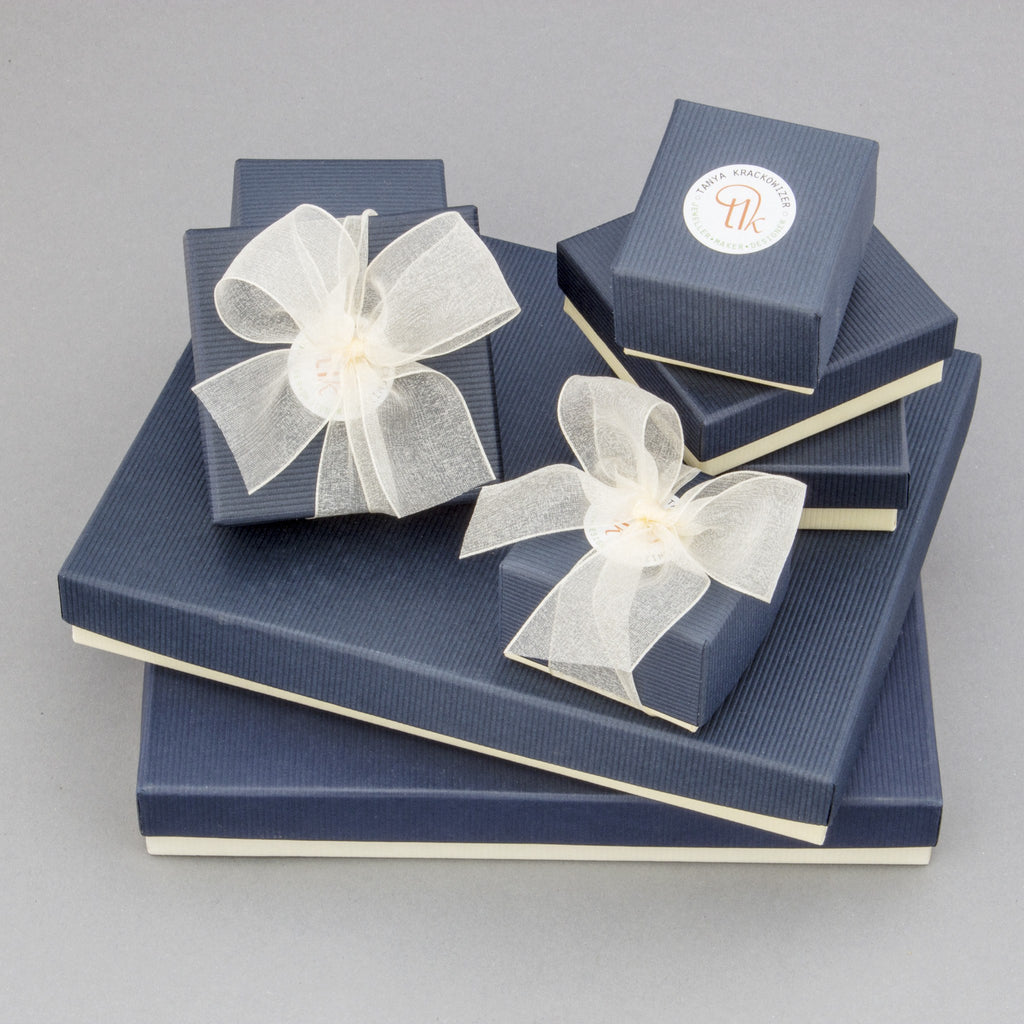 Personalised Silver Story Ring
Capture Your Story In This Gorgeous Sterling Silver Handmade Story Ring.
Remember…
THE PLACE where you first kissed
THE DAY she said yes
THE PERSON who meant the world
or the very special year all your dreams came true…
Honour life's most magical moments with our exceptional Remember Your Story Personalised Silver Ring. A stunning piece of jewellery for that special someone in your life, it is handcrafted to order at our UK studio and it can be personalised with a name, a special date, a place, or a secret message that only you and your loved one will understand.
A wonderful gift for any occasion, our Remember Your Story Personalised Ring features a handmade classic silver band, which can be stamped with the word REMEMBER on the outside or left plain. On the inside, we'll stamp your chosen text in numbers, letters or roman numerals to create a bespoke and meaningful piece of jewellery that the recipient will adore. Your story set in silver for eternity.
My jewellery is presented in a beautiful branded gift box.
Personalisation
Choose the story you wish to remember. The ring can have 'REMEMBER...' stamped on the outside of the ring or can be left plain and it is up to you to personalise the inside of the ring.
Popular choices are: Wedding dates, honeymoon destinations, memorable years, loved ones, city breaks, hen weekends and personal messages. For example: Ibiza 99, Paris, I ♡ you, Nanna, our honeymoon.
The letter stamps used are upper case only and are 2mm high. I have letters, numbers, a star, heart and the following punctuation: &$@.'()'#. To insert a star please write (st) and for a heart please write (<3). All stamping is done by hand and is not computer engraved. It is meant to be slightly uneven and adds to the charm of this handmade piece.

There is space for up to 20 characters including spaces depending on the ring size - the letter/space allowance is indicated in the drop down menu next to each ring size.
Sizing
All my rings are sized to the centre of the ring - if you have your ring size taken at a local jeweller's, please provide them with this information.
If you are unsure of your ring size please contact me for advice. I am happy to re-size all my rings free of charge, you only need to pay for re-delivery costs. All the information will come out with your order
Finish & Materials
This ring is made from hallmarked sterling silver and has a brushed matt finish
Choose the finish of the letters: they can be either left silver or oxidised to make them black.
Dimensions
(W) 4mm x (D) 1.3mm flat wire